(Episode 2 Death Valley: Dante's View)

This feels more like a book review than anything else considering the show is already over, but I liked the idea of experiencing all of a show like
Ride with Norman Reedus
before talking about it. Its debut season was only 6 episodes so it felt a little like a mini-series, short and sweet, but just long enough to really miss it when it's over. (I'm sure there's a "that's what she said" joke somewhere in there...)
I've been on the Norman Reedus bandwagon for some time now, though I don't even like saying that because it's really
The Walking Dead
bandwagon. (But don't get me wrong, Daryl is my favorite character.) Everything about that show is incredible-the writing, the acting, the sets, the makeup, the zombies. Anyone who knows anything about me knows I love amazing, well told stories, and this is one of them. I have a hard time shutting up about
TWD
actually. After getting hooked on
TWD
, I got hooked on Daryl and then on Norman. Finding out what a talented, amazing man Norman is, it totally made sense that the creators of
TWD
invented the character of Daryl just to have Norman on the show. There's a reason why everyone who meets Norman tends to refer to him as the kindest human being they've ever met. I've never heard him say a negative thing about anyone or anything, and everything he says and does is genuine. He's one of the amazing few who, with no force necessary, brings people together and generally makes the world around them a better place. It's no wonder people are drawn to him.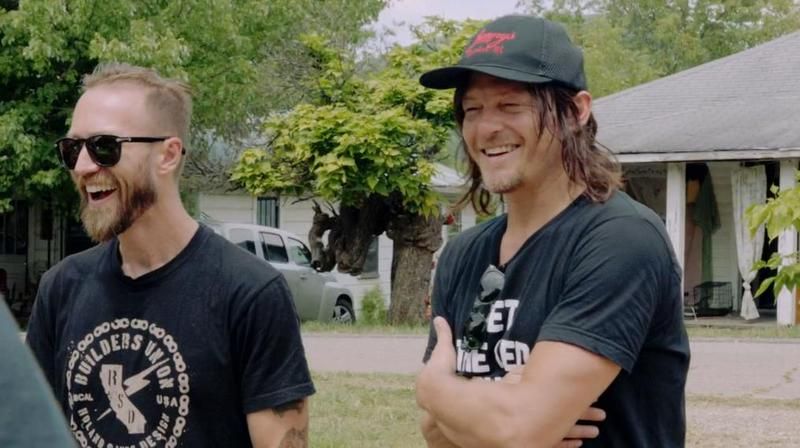 (Episode 3 with Jason Paul Michaels in Appalachia: Blue Ridge Parkway)

It's also no wonder that
Ride
, which AMC created just for him (I'm noticing a pattern here), is such a pleasure to watch. This is all Norman, not a character he is playing, and it's incredibly endearing to see these different sides of him as he experiences new things all across the US. (He seems especially brave about trying new food, which he often let other people order for him on the show, and he would try whatever was put in front of him.) Some of these new things include, but are not limited to, riding a dune buggy for the first time at Pismo Beach, learning how to pop a wheelie on a dirt bike in the Nevada desert, racing porta potties in Georgia, and walking through a Louisiana swamp to catch crawfish. (Most of that Louisiana episode had me in tears I was laughing so hard.)
One of the my favorite things about watching
Ride
was that every episode made me want to get out and explore. All the places he visited, especially New Orleans, I would love to see. In episode one he travels up the Pacific Coast Highway from LA to Pismo Beach to Santa Cruz. I've grown up on the beach in Oxnard and I've only traveled as far north on the road as Santa Barabara. I was actually trying to plan a road trip up the coast to San Francisco for my birthday this year, and Vegas happened instead, but I'm still determined to make that trip happen. Maybe for my 33rd birthday next year. No matter when I go, I will be stopping in Pismo to ride a dune buggy.
Another great thing about the show, besides drooling over gorgeous motorcycles for forty-five minutes, is how fun and uplifting the episodes are. I was in the best mood after I watched them, and as I said before, watching episode five in Louisana with Brent Hinds from Mastodon made me laugh so hard. That's probably my favorite episode. Norman and Brent were just the best form of entertainment.
It's obvious, though, that the very last episode in Florida with Peter Fonda was Norman's favorite. He's said before that Peter in
Easy Rider
was the reason he got into motorcycles, and he was totally geeking out riding with Peter through the Florida Keys. But if that was Norman geeking, then I'm impressed. He totally kept his cool, and Peter seemed just as taken with Norman as Norman was with him. I sincerely hope that more of Norman's fans will take a lesson from him and keep their cool when meeting him. He's a person too, albeit an above average one on the amazing-human-being scale.
So here's to a second season of
Ride
. I would love to see where Norman explores next, and it's so cool that he's willing to share that with all of us. And really I hope there's another season because he looks like he's having so much fun. You deserve it, Norman.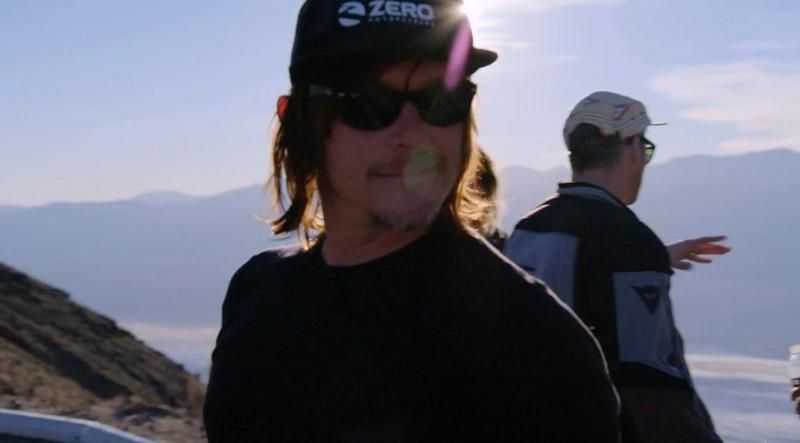 (Episde 2 with Balthazar Getty in Death Valley)
P.S. I find it fitting that this is my 500th post. What better way to celebrate such a landmark than with Norman?